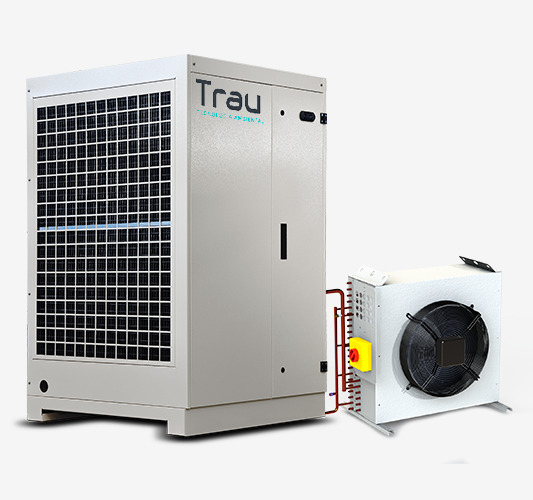 DESHUMIDIFICADOR TRAU ST1500
Ref: ST1500
Trau
Single flow ductable dehumidifier, designed for dehumidifying and heating indoor swimming pools and potentially corrosive environments.

In addition to the features of SP models, the ST version hasa remote air condenser, in addition to the internal one,that allows to dissipate outside the excessivecondensation heat during summertime.

· Equipped with a remote air condenser that extracts excess condensation heat to the outside.
· Installation in the room to be dehumidified (fixed or mobile with pivoting wheels, optional) or technical compartment.
· Internally and externally painted steel cladding.
· Coils with pre-painted fins for corrosive environments.
· Electronic components protected against chlorine.
· Stainless steel tray to collect condensate.
· Double inlet centrifugal fan (EC radial fan, optional) top or front delivery.
---
Dehumidifier type:

Refrigerant

Dehumidifier application:

Pools Ducts

Dehumidifier installation:

Ducts

Extraction capacity (l/24h):

1480 L/24h

:

Trau

Air flow (m3/h):

13000 m3/h

Water flow (m3/h):

98 m3/h

Static air pressure in process (pa):

300 Pa

Cooling capacity (kw):

More than 25 kW

Sound level (db (a)):

70 dB(A)

Refrigerant:

R410a

Electrical voltage (v/hz):

400 V/III/50 Hz

Dimensions. h x w x d (mm):

1640x1000x2500 mm

Weight (kg):

780 kg